#FreeThemAll Actions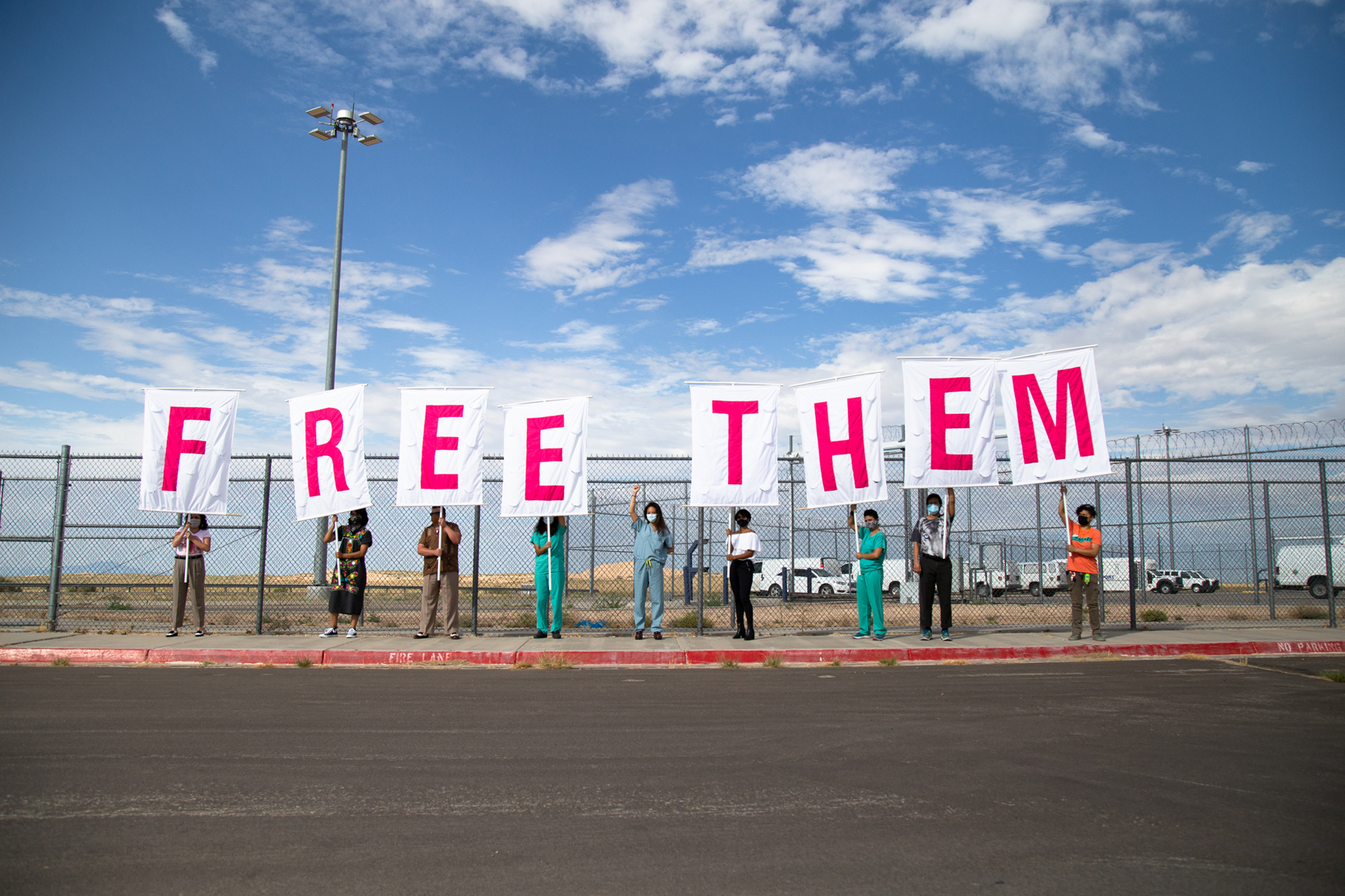 Bernalillo County Metropolitan Detention Center
"We are too close, too close to each other. Breathing the same air. We are trapped."
"This will turn our detention into a death sentence."
These are direct quotes from migrants detained inside ICE detention centers.
.
The COVID19 pandemic has turned what was already a human rights crisis of mass incarceration and migrant detention into an even bigger disaster.
.
We are calling for the release of people in prisons, jails and detention centers in our state.
.
As of October 24, 2020, there are 1,628 cases in NM state and federal detention facilities. This is likely a major underestimate due to testing availability.
.
We, the fronteristxs artist collective, together with a broad coalition in the migrant justice movement, are calling for an end to migrant detention and the carceral state. We believe and fight for liberation for all.
Coalition partners: White Coats for Black and Indigenous Lives, New Mexico Immigrant Law Center, Santa Fe Dreamers Project, OLÉ, Millions for Prisoners NM, and several other migrant justice/decarceration organizations.
.
Find out more about COVID-19 in immigrant detention centers at
https://www.freedomforimmigrants.org/map

.
Find out more about COVID-19 in prisons and jails at
https://www.prisonpolicy.org/virus/index.html
TAKE ACTION
Action #1: Call your officials.


Action #2: Join a #FreeThemAll Car Rally (or start one in your town).
For more info on FTA Friday Car Rallies:
Millions for Prisoners NM FB page


Action #3: Share this campaign on social media.
Follow us on IG/twitter @fronteristxs
Tag your public officials!
For New Mexico:

Governor Michelle Lujan Grisham
@govmlg

Senator Martin Heinrich
@senatormartinheinrich

Senator Ben Ray Lujan
@senatorlujan

Rep Melanie Stansbury

@melanieinthe505

Rep Teresa Leger Fernandez
@teresafornm

Rep Yvette Herrell

@repherrell
Who to Call:

Governor Michelle Lujan Grisham
(505) 476-2200

Attorney General Hector Balderas
(505) 717-3500

ICE Assistant Field Office Director Wayne Cox
(915) 834-4802

Outside of NM: Call your governor!

Call script:
Hello, my name is __________ and I am a constituent. I am calling with urgent concern about the health and safety of people inside New Mexico immigrant detention centers, prisons, and jails. I am urging you to save lives by requiring the immediate release of people in our state's jails and prisons, and asking for you to pressure ICE to release all migrants from detention centers because inaction is a death sentence.

We may have the privilege to shelter in place at home, but those in detention are not able to socially distance, are not provided with adequate PPE or testing, and are living in cramped, inhumane conditions without access to quality medical care.
This is a human rights crisis.
Migrants who are seeking a better life, who are fleeing violence and poverty, do not belong in cages.
US foreign policy is largely responsible for reasons why people have to flee their own countries in the first place.
Keeping migrants in detention is unnecessary and inhumane; it's not about public safety–it's about the white supremacist agenda of this administration to dehumanize and scapegoat people.
The systems that are responsible for the horrific conditions that migrants experience are the same ones that disproportionately affect Black, Indigenous, and Latinx people in the prison and policing system.
Prisons and police don't fix crime, they cause more trauma and violence in our communities.
We are here in our public spaces to call attention to the crisis, which our government created. We all need to rise up and demand radical change.
#FreeThemAll
︎
New Mexico State Capitol, Santa Fe NM
Bernalillo County Courthouse, Albuquerque NM
Metropolitan Courthouse, Albuquerque NM

Pete V. Domenici United States Courthouse
In 2018, federal spending on immigration enforcement was $24 BILLION–approximately 34% higher than combined spending on FBI, DEA, Secret Service, US Marshals Service, and the Bureau of Alcohol, Tobacco, Firearms, and Explosives.
.
The US incarcerates people at the highest rate worldwide: the US criminal justice system holds almost 2.3 million people in prisons, jails, and psychiatric hospitals at a cost of $265 BILLION a year. The US rate of incarceration is far higher than much larger countries like India and China, and more totalitarian ones like Russia and the Philippines. Mass incarceration is a form of legalized slavery and disporportionately impacts Black, Indigenous, Latinx people across the US.
.
We need to dismantle the carceral state. We need to divest from prisons and defund police. We need investments in healthcare, housing, education, and jobs. We need #CareNotCages.